Profil firmy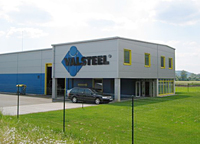 VALSTEEL a.s. has been operating on the Czech and foreign market since 1997 and represents one of the key trading companies in deliveries of high-grade steel at present. The main activity is represented by sales of metallurgical material for high-grade tool steel in higher quality classes. The programme offered has been enlarged with deliveries of duralumin and its alloys due to increasing demand from customers.
The seat of the company is in a newly built hall in Zubří near the town of Rožnov pod Radhoštěm since the year of 2000. The rooms are equipped with new technologies and equipment related to their activity. Capital expenditures on new machines and equipment made it easier to handle material and this made it possible for us to increase the quality of services provided by us to customers, which is our goal.
We can offer more than 2,200 tons of steel and duralumin of different quality and profiles from our stock. The company is a 100 % Czech company without any foreign capital.
Quality of our services is demonstrated by the quality certificate ČSN EN ISO 9001:2001 from the German company ITI TÜV.
Motto of our company : We like looking for new ways, one leads us also to you...